Judicate West Kicks Off 30th Anniversary Year with Launch of Redesigned Website
By JUDICATE WEST
Kicking off its 30th anniversary year, Judicate West has officially launched a newly redesigned website, aimed at making its dispute resolution services and information easier to access and more prominently featuring its sought-after exclusive roster of neutrals.
"We've grown and evolved over the last 30 years, in concert with the changes in our profession and the broader legal community. Our redesigned website features a modern look and prioritizes what our clients have requested and need today -- quick and easy tools to get the information they seek with efficiency," said Alan Brutman, President and Co-Founder of Judicate West. "Even though our website has evolved to a new look and feel, we still offer clients the same support and culture they have come to know and expect from Judicate West. We plan to continue to improve the site and are hopeful that this endeavor reinforces our commitment to being the gold standard in private dispute resolution and to delivering the best client experiences throughout the state."
Judicate West's website streamlines navigation for an improved user experience – most notably, making it simple to find and connect with the neutrals that fit the requirements of their specific case. While Judicate West has always offered neutrals in a variety of practice areas, now clients and potential clients can filter neutrals by practice area, process, and availability to quickly find possible mediator, arbitrator, or private judge options. Just as before, clients can easily request to schedule a case online, and a case manager will respond promptly to guide them through the process. Additionally, pre-vetted and dedicated practice groups in specialty areas, such as Employment and Federal Law, help deliver neutral options that meet a wide range of dispute resolution expertise.
The redesigned website also features an extensive arbitration and private judging resource center. "With a goal of providing full transparency into the arbitration process and all the options available to clients regarding providers, we have enhanced the arbitration section of our website. Visitors will find a wealth of insight and resources as we have aggregated Judicate West's set of Commercial Arbitration Rules and related policies and procedures," said Rosemarie Chiusano Drohan, Executive Vice President of Business Development with Judicate West.
Additionally, Judicate West provides its Appellate Rules and now offers Appellate Services, including case consultations, evaluation of oral arguments, moot court, and appellate mediation. This niche service allows skilled advocates to consult with a neutral to sharpen arguments, craft responses, and overall prepare for the appellate process.
Judicate West offers neutrals in the following practice areas: Appellate, Business/Commercial, Cannabis, Construction, Employment, Entertainment, Environmental, Family Law, Federal, Insurance, Probate, Professional Malpractice, Real Estate, and Tort. With these diverse offerings and a roster of talented neutrals, Judicate West is positioned to continue exceeding expectations as one of California's leading providers of private dispute resolution services in its 30th year of business.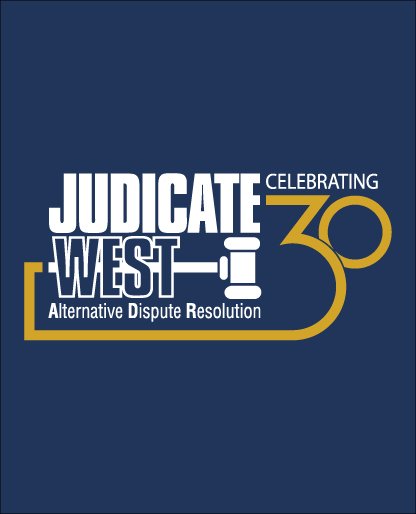 Judicate West