By JUDICATE WEST
In Memoriam
Robert McQuarrie Bennett
(1955 - 2022)

It is with profound sadness that we share with you that our beloved Rob Bennett passed away the morning of July 6, 2022. There truly are not enough words to describe the amazing person Rob was, how much he meant to us all, and how much he will be missed.
From the Los Angeles Times
Robert M. Bennett lost his battle with cancer July 6th 2022. He put up a valiant fight, and was still working both remotely as a mediator and on his beloved classic cars until nearly the end.
Robert grew up in Pasadena, attending John Muir High School, Pasadena City College, UCLA, and Pepperdine Law School. He was a case manager for the FDIC during the savings & loan meltdown, afterwards becoming a highly successful insurance litigator at St. Paul's Insurance and AAA. He took early retirement and joined Judicate West, where his listening skills and innate sense of fairness as a mediator soon brought him more clients than he could handle.
Robert was proud to say that until the recent pandemic he had never missed a Pasadena Rose Parade, attending his first one in utero in 1955. When he grew up he became a Tournament of Roses fixture in his white suit, often acting as liaison with the football teams appearing in the New Year's game. It was volunteer work he loved, and it brought him lasting friendship, as did his decades-long membership of the Triumph Club. His love of college football brought more friends: he followed his parents in going to UCLA and was a fan till the very end.
Robert is survived by his wife Ying, his adult children Holly, George, and James, and by two sisters and a brother. His was a life well-lived, and ended too soon. A private family service will be held later this summer at Forest Lawn.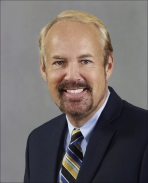 Judicate West