Doug deVries became a full-time mediator in 2011, following 35 years of experience litigating complex cases at both the trial and appellate court levels in State and Federal courts. Doug's areas of expertise include insurance coverage and bad faith, major personal injury, product liability, medical malpractice, employment, commercial, and other complex cases. He has 30 years of experience as a mediator, arbitrator, and settlement conference Judge Pro Tem in various courts and programs in Northern CA.

His strengths include the ability to listen and communicate in a highly effective manner (including circumstances involving strong personalities and emotionally charged issues), and to fully understand and thoroughly analyze complex legal and factual issues. Over the years, he has been selected to mediate complex cases, including mass tort property damage insurance disputes, and developed a statewide reputation for being one of the "go to" mediators for insurance coverage, ERISA, and bad faith.

Doug's skills are highly respected by both sides of the bar, as evidenced by the glowing recommendations he receives from plaintiff attorneys and defense attorneys alike. One attorney commented, "he makes both sides feel like winners - prodigious people skills, superb powers of persuasion, uncommon common sense, and keen insight into the thinking of plaintiffs and defendants alike." Another attorney said, "He's a direct, fair, and honest guy, and a quick study and deep thinker - he gets it."
Practice Areas
Commercial
Employment
Insurance Coverage/Bad Faith
Personal Injury
Products Liability
Professional Malpractice
Hobbies & Interests
Aside from the law, Mr. deVries enjoys traveling, golfing and cooking.
Website
Legal Career
Full-time Mediator, Judicate West (2011-Present)
deVries Law Firm (2003-2011)
Partner, Mart & deVries (1983 – 2003)
Law Office of Douglas K. deVries, PC (1981-1983)
Associate, Klein Law Offices (1976 – 1981)
Education & Professional Affiliations
J.D., University of the Pacific, McGeorge School of Law (1976)
M.A., Cal State Northridge (1973)
B.A., University of California at Los Angeles (1967)
Pepperdine Straus Institute for Dispute Resolution (2011)
Third District Court of Appeal, Dana Curtis Mediation Training (2012)
U.S. District Court Mediator orientation training (2011)
Selected Mediator/Arbitrator, Mansville Personal Injury Settlement Trust (federal)
Experienced Kaiser Permanente Mandatory Arbitration Panelist
American Board of Trial Advocates, Member
American Arbitration Association, Former Member
Judicial Council Advisory Committee on Fast Track Case Management, Former Member
California State Bar Commission on Mandatory Continuing Legal Education, Former Member
Achievements & Awards
Named "Top Lawyer" by Sacramento Magazine (2017)
AV/Preeminent rating with Martindale Hubbell
Frequent invited lecturer at legal seminars in California and throughout the country including the American Bar Association, American Conference Institute, National Business Institute, Rutter Group, Consumer Attorneys of California, CEB and the San Francisco and Sacramento Trial Lawyers Associations
Authored numerous published legal articles and has been a contributing author to many more
Below is a sampling of the various matters Douglas K. deVries, Esq. handled as a practicing attorney or neutral.
Consumer Class Action
Class action: case seeking damages for a collection company's violations of privacy and provisions of the Telephone Communications Act.
Class action involving multi-million dollar claims under federal consumer protection statutes. Issues involved class representation standing and adequacy, class certification and scope, and class remedies and damages under Rule 23(b)(2) and (3).
Contractual
Commercial litigation: case brought by a company against a former key employee who allegedly stole confidential information and trade secrets in order to divert customers to new business.
Life insurance and bad faith: case involving allegations of improper sale of illegal STOLI (stranger owned life insurance) policies and alleged failure to process appropriate conversion of variable universal life policy to term insurance policy in the face of insured's terminal illness
Commercial contract dispute between an agricultural producer (farming corporation) and an agricultural processor/distributor involving enforceability of altered or amended contract terms in the context of a course of conduct in an ongoing business relationship and industry customs and practice.
Financial Elder Abuse
Elder and Dependent Abuse: case by an elderly woman who was sold allegedly inappropriate annuity and reverse mortgage
Case involving allegations of Financial Elder Abuse, Fraud and negligence in conjunction with sales of annuities and real estate, and including alleged misappropriation of money. The alleged victim was over the age of 65 and therefore subject to California Welfare & Institution Code sections 15610.30 et seq. Defendants included insurance and financial service entities and their agents.
Fraud/Misrepresentation
Case involving a dispute between a medical care provider and a health plan over the amount of reimbursement rates paid by the plan to the provider for medical services rendered to patients.
Commercial litigation involving one business' seven-figure purchase of the assets of another business. Case involved allegations of fraudulent misrepresentation and over-valuation of assets, and also involved issues concerning non-competition, standby, and loan subordination agreements.
Constr. Defect/Real Property
Case brought by a Hotel against the manufacturer, distributor, contractor and installer of an heating and air conditioning system. It was alleged that due to negligent design and installation the system failed to adequately perform and repeatedly failed. Alleged damages for lost income, repairs and replacement exceeded eight-figures.
Construction Breach Of Contract
Case brought by a general contractor against a sub-contractor alleging that faulty workmanship caused failure of a waterproofing system installed on apartment building decks and walkways and resulting loss of manufacturer product warranty protection. Complex issues had to be addressed regarding disputes about proper construction techniques, causation of damages and sub-contractor insurance coverages.
A D A
Case involving whistleblower retaliation and disability discrimination claims asserted by a doctor against a university resulting from alleged wrongful dismissal from a medical school fellowship program. Damage claims included loss of earning capacity, emotional distress, and attorney fees.
Breach of Contract
Employment case involving alleged wrongful termination of a real estate agent pursuant to the terms a written employment agreement and defamation. Contested issues included whether a contractual limitations period was enforceable, whether the agreement constituted a "for cause" termination agreement, whether the agent was an independent contractor or employee, whether the agent was defamed and the nature an amount of various common law and statutory damage claims.
Discrimination
case by truck drivers against employer alleging wrongful pretextual termination secondary to age discrimination
ERISA
Long term disability claim based on fibromyalgia and chronic fatigue syndrome
Long term disability claim based on alcoholism and depression
Insurance coverage and policy interpretation case concerning the applicability of a pre-existing condition exclusion provision to a disability insurance claim. Specifically, issue turned on whether a new injury suffered during an operation relating to an excluded pre-existing condition also fell under the pre-existing condition exclusion.
Case involved dispute over insurance coverage issue pertaining to group disability insurance. Specifically, dispute arose concerning whether or not "other income" offsets to account for insureds' receipt of Social Security Disability Insurance required proration where two different disability insurance policies covered the same disability.
Whistleblower Wrongful Term
Employment law: case by a whistle blower for retaliation and hostile workplace constructive discharge;.
Bad Faith
Disability insurance and bad faith: case involving alleged unreasonable denial of disability insurance benefit claim based on back pain
ERISA Disability Claims: long term disability claim based on back problems
Insurance coverage / bad faith case involving wind and tree damage to home with resultant whole house "racking" (frame tilting and twisting) allegedly requiring demolition and rebuild versus extensive repairs. Claim for contract and extra-contractual tort damages.
Case involving alleged wrongful sale of life insurance and annuity products to an elderly person, including claims of misrepresentation, elder financial abuse, and various statutory violations.
Insurance coverage case involving alleged insurance bad faith by an insurer in adjusting a total fire loss claim under a homeowner fire insurance policy, including in particular how the Replacement Cost coverage provisions are to be properly applied to older homes.
Case involving long term care insurance based on allegations of breach of contract, insurance bad faith and elder abuse arising from allegedly wrongful denial of home health care benefits to an elderly person with cognitive impairment and related needs.
Coverage
Insurance coverage and bad faith: issues concerning the meaning and legal effect of MCS-90 common carrier insurance policy endorsements in inter-state trucking accidents
equitable contribution between multiple insurers on construction defect claims and Additional Insured (AI) coverages
coverage issues relating to water damage and mold proliferation, and vicarious liability for network contractor negligence
coverage issues relating to landslide and covered direct physical loss requirement as well as policyholder preventative actions under policy's "settle and sue" clause
coverage issues on claim by a computer software company seeking business interruption coverage due to water intrusion
Coverage issues dealing with contractor cost of defense regarding construction defects
Coverage issues on restaurant property damage and business interruption claims resulting from fire
Disability insurance benefits claim involving alleged unreasonable denial of severe pain caused by trigeminal neuralgia
case involving state "slayer statute" presenting issue whether life insurance beneficiaries could receive death benefit before being ruled out as suspects in open police murder investigation into homicide of insured.
case involving quadriplegic injuries to a man diving into a condominium swimming pool
Commercial real estate-related insurance bad faith case involving fire losses at an apartment building that was in foreclosure due to owner default on note secured by the subject property. In addition, allegations asserted conversion and cross-allegations asserted breach of various agreements related to bank and mortgage lender rights and obligations vis-a-vis insurance payments in the context of an investment property in foreclosure.
Subrogation
Case involved subrogation action brought by an insurance company against a water remediation contractor for recovery of money paid to insured homeowner. Allegations centered on negligent water removal and testing resulting in further water intrusion and mold proliferation.
Case involving claim by an excess liability insurer against a primary liability insurer alleging that the primary insurer, who controlled the defense of an underlying automobile accident case, acted in bad faith when it failed to reasonably settle the underlying case within the primary policy limits. As a result, the excess insurer was exposed to a large verdict exceeding the primary policy by more than double, which the excess insurer paid under a reservation of rights to pursue indemnity against the primary insurer.
Medical Malpractice
Medical malpractice: case by the wife of a man who died due to internal bleeding following surgery.
case by a man who allegedly suffered dementia following electro-convulsive therapy
Medical malpractice case involving alleged failure to properly read X-rays resulting in failure to timely diagnose and treat a spinal infection and epidural abscess in a 30-year-old person. Alleged that as a result of negligence the patient-plaintiff had to undergo multiple complex surgeries, including vertebral corpectomy and multi-level fusion, which in turn ended the person's career as a firefighter.
Medical malpractice case involving allegations of professional negligence against a radiologist for failure to correctly interpret a mammogram and a general surgeon for failing to appropriately react to and follow up on micro-calcifications in the patient's breast. As a result, it was alleged that plaintiff was deprived of treatment and a potential cure for Grade II invasive ductile carcinoma, which progressed to Grade IV with distant metastasis (carrying a dire prognosis).MICRA damage caps and a large Medi-Cal lien were also involved.
Professional Malpractice Legal
Professional Liability case involving allegations of legal malpractice and accounting malpractice associated with the structuring of the sale of stock and assets of a business resulting in the new owner's loss of substantial tax benefits associated with depreciation amortization of the business' substantial goodwill asset.
Case involving a legal malpractice suit brought by a company against its former lawyers arising from alleged mishandling of the defense of an underlying patent infringement lawsuit brought against the company. The patents at issue related to industrial equipment used in medical settings, and the legal processes involved the U.S. Patent Office's Inter Partes Review (IPR) as well as a federal district court jury trial. Claimed damages were multiple seven figures.
Legal malpractice action arising from allegedly inadequate settlement of an underlying personal injury case as well as allegations of fraud and multiple breaches of ethical duties by attorney and office staff.
Legal malpractice action arising from underlying catastrophic personal injury case based on alleged defective governmental entity road design, and further complicated by contested professional liability insurance coverage issues.
Legal malpractice case alleging that a client's underlying case was dismissed pursuant to terminating sanctions based on their attorney's failure to respond to discovery requests and orders. Defenses included alleged failure to mitigate and lack of causation due to successor attorneys' failure to adequately pursue CCP sec. 473 relief; claimed injury and damages were also contested.
Breach Of Contract
Case brought by homeowner-borrower against major national bank for allegedly wrongful foreclosure, fraud, statutory violations, and wrongful eviction arising out of allegedly unfair and illegal mortgage loan modification practices.
Buy/Sell
Multi-million dollar case involving dispute between commercial developers and a bank based on allegations of fraud in the auction sale of foreclosed and repossessed residential properties.
Property Damage
Part of a large series of mediations involving cases arising from a large catastrophic fire. These mediations involve all manner of claims that arise from such an event, including physical and emotional injuries, destruction of homes and other structures, dislocation, emotional distress, property, tree and vegetation loss and restoration, etc.
Real Property
Virtual mediation of a commercial real estate case involving commercial lease renewal and allegations of breach of listing agreement by broker, misrepresentation, breach of fiduciary duty, and unfair business practices.
Assault and Battery
case involving death of a bar patron while being physically subdued by bouncers
Catastrophic Injury
case involving death of a construction site work due to wind-driven collapse of a wall
Case involving auto collision causing allegedly major injuries, including moderate to severe TBI (traumatic brain injury), post-concussive syndrome and PTSD (post-traumatic stress disorder) as well as multiple neurological, orthopedic and soft tissue injuries. It was also alleged that the plaintiff lost her career and opportunities for advancement in her health-related occupation and would require rehabilitation as well as lifetime care and support resulting in claimed damages in the multiple seven figure range.
Elder Abuse
case by a man who suffered worsening bed sores, including deep cratering and infection, while admitted to a hospital and subsequently a skilled nursing facility.
PI Auto
Personal injury: case involving allegedly serious disabling injuries from loss of control collision allegedly precipitated by a phantom vehicle
case involving multiple near-fatal injuries from truck side-swiping car on mountain road
Disability insurance claim involving carpal tunnel syndrome with significant business loss and bad faith allegations
Significant auto collision personal injury case involving serious injuries, including post-concussion syndrome and orthopedic and neurological injuries. Other issues presented included earnings loss and property valuation involving a high profile publicly recognizable figure.
Case involving a multi-million demand following motor vehicle collision in which young adult suffered significant personal injuries, including multiple fractures of spine and a lower extremity and head trauma leading to alleged traumatic brain injury (TBI).
Case involving serious personal injuries stemming from a large vehicle striking a pedestrian, including head trauma, neck trauma, back trauma and shoulder fracture resulting in alleged mild TBI (traumatic brain injury), PTSD (post traumatic stress disorder) and long-term residual physical disabilities.
Case involving a high fall at a job site causing multiple soft tissue and orthopedic injuries (not disputed) and alleged Mild TBI which was highly disputed. Also involved multiple defendants and cross-complaints, including allegations of negligent hiring, Cal-OSHA violations and workers compensation uninsured employer. Damages included life time rehabilitation, medical care and lost earning capacity.
PI Sexual Assault
case by a female high school intern for sexual assault by male supervisor
PI Sexual Molestation
Case by a psychiatric patient who alleged sexual violation by a physician.
Premises Liability
Case by five guests of a resort hotel who became trapped in an elevator stuck between floors for 6 hours.
Personal injury case with serious injuries and large Workers Compensation Claim In Intervention. Roofer allegedly fell from residential roof onto concrete patio when eave sheathing and fascia board collapsed due to allegedly faulty pest control remediation work.
Case involving insurance subrogation action arising from major fire loss brought by insurer against public utility.
Wrongful Death
Case by young man rendered paraplegic after multiple doctors and hospitals allegedly failed to recognize and correct acute spinal cord and nerve root compression.
Insurance coverage case arising from the drowning death of a child in a residential swimming pool. The primary coverage issues involved (1) the meaning of the term "relative" as used in the policy's terms relating to liability coverage for acts and omissions of residents of the Insured household, and (2) the duty and liability of a homeowner with respect to negligent acts of a home's occupants when the homeowner is not physically present.
Mr. DeVries was very thorough in his explanation of the interpretation of particular signals being sent by the opposition and was helpful in developing creative options.
- Attorney on a Personal Injury Auto Case
He didn't give up even when it seemed discouraging at times.
- Attorney on a Premises Liability Case
Mr. Devries did a good job of managing everybody. I would recommend him in the future.
- Attorney on an Insurance Bad Faith Case
Going into the mediation I thought there was somewhere between 0-5% chance of the case getting resolved. Against all expectations, the case settled. My highest compliments to Doug, he is a fantastic mediator and I cannot say enough good things about him or the process.
- Attorney on an Insurance Bad Faith Case
Doug deVries is in a class by himself as a mediator. He took a great deal of time explaining the realities of the Plaintiffs' chances for recovery in the case, and he was able to relate his own experiences as a trial lawyer, which gave him great credibility. It became obvious to me during the mediation that my own expectations as to recovery were unrealistic, and it takes a well-seasoned, down-to-earth mediator to persuade me. He is also a likable, down-to-earth human being.
- Attorney on an Insurance Bad Faith Case
Results matter - case settled. Doug's knowledge of the area was, as expected, superb.
- Attorney, San Francisco, California
Doug is an amazing person and a great mediator.
- Attorney, Long Beach, California
Mr. deVries was very thorough in his explanation of the interpretation of particular signals being sent by the opposition and was helpful in developing creative options.
- Attorney on a Personal Injury Auto Case
Print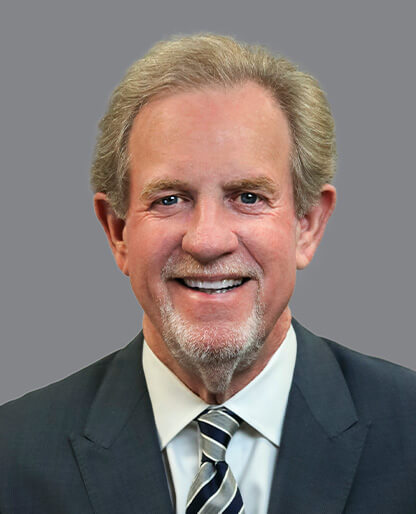 Based in Northern California | Available in All of California