Judge McGuire joined Judicate West following over a decade of distinguished service on the Fresno County Superior Court. During her time on the bench, she spent five years in the Family Law Division and seven years in the Civil Division, overseeing hundreds of cases and presiding over numerous trials, as well as conducting settlement conferences on a regular basis. She also served on the Appellate Panel and the Court Executive Committee. Prior to her appointment, she was a partner at a law firm, handling complex civil rights and tort litigation in state and federal court.

Devoted to the legal community, Judge McGuire has contributed her time to multiple organizations in leadership positions. Notably, she is a past president of both the San Joaquin Valley Chapter's Federal Bar Association and ABOTA and currently serves as a National Representative for ABOTA.

She describes her approach to private dispute resolution, stating: " I consider myself to be friendly, positive, and a good communicator. With the knowledge and experience I acquired as a trial lawyer and judicial officer, I can help litigants resolve their disputes and reach a satisfactory resolution without the stress and expense of lengthy litigation and unpredictable results."


Practice Areas
Business Litigation including Lemon Law
Civil Rights/Governmental
Construction Defect
Employment
Family Law
Insurance
Medical Malpractice
Personal Injury Including Wrongful Death/Sexual Assault
Probate
Real Estate
Hobbies & Interests
Judge McGuire and her husband are avid travelers and love to experience different cultures, food, and local sights. She is from a large family and enjoys spending time with her children, grandchildren, sisters, and their families. She also loves to read and cook as well as play golf and pickleball.
Legal Career
Full-time Neutral, Judicate West (2023-Present)
Judge, Fresno County Superior Court (2010-2023); Limited Civil Division (2010-2012); Family Law Division (2012-2017); Unlimited Civil Division (2017-2023); Appellate Panel (2011-2019)
Pro Tem, Fresno County Superior Court (2001-2006); Juvenile Delinquency
Partner, Weakley, Arendt & McGuire (2001-2010), Handled complex civil rights and tort litigation in state and federal court involving public, business, and religious entities; Associate with the firm (1994-2001)
Education & Professional Affiliations
J.D., San Joaquin College of Law (1990-1994)
California State University, Fresno (1970-1973)
Judicial Council, Settling Civil Cases
California Judicial Education and Research (CJER), Initiating Remote Settlement Conferences
ABOTA – San Joaquin Valley Chapter, National Board Representative (Present); Co-chair Judicial Independence Committee (2018-2022); President (2014); Member (2006-Present)
Fresno County Law Library, Board of Trustees (2011-2022); President (2019-2021)
Federal Bar Association – San Joaquin Valley Chapter, President (2008-2009)
California Judges Association, Member
Fresno County Bar Association, Member
Association of Business Trial Lawyers (ABTL), Member
Achievements & Awards
Civility Award, ABOTA - San Joaquin Valley Chapter (2023)
Co-presenter at ABOTA Foundation Webinar Series-Civility Matters (2023)
Co-presenter at Civil Advocacy Institute-Motion to Compel Standards, Meet & Confer Requirements, Special Master (2022)
Multiple Civility Matters Programs sponsored by San Joaquin Valley Chapter ABOTA (2019-2022)
Co-presiding Judge at ABOTA Masters in Trial Program (2017)
Co-presenter at National Business Institute (Family Law Judge Insights: Custody, Support, Asset Division and More (2017)
NBI Family Court Judicial Forum (2015); Civil Court Judicial Forums (2011 & 2012)
Below is a sampling of the various matters Hon. Rosemary T. McGuire, Ret. presided over on the bench, tried as an attorney, or handled as a neutral.
Contractual
As a judicial officer and litigator, was involved in many types of business cases including breach of contract, breach of fiduciary duty, lemon law, misappropriation of funds, unjust enrichment, and more.
Family Law Issues
As a judicial officer, she handled family law matters exclusively for five years including child custody, child support, visitation, spousal support, property division, allocation of assets and debts, and retirement benefits. Presided over numerous cases involving parenting plans with allegations of domestic violence, substance abuse, and/or mental health issues as well as cases involving relocation and nonparental custody.
She adjudicated cases involving interspousal transfer of property acquired during marriage, custody and enforcement of marital settlement agreement, custody and move away request, modification of spousal support based on change of income, breach of fiduciary duty, property division, spousal support, and attorney's fees, and allocation of proceeds from the sale of a home traceable to a personal injury settlement.
Regulatory
As a judicial officer handled and adjudicated cases involving government tort liability, including dangerous condition of public property, design immunity, breach of mandatory duty, excessive force, and immunity for discretionary acts.
As a lawyer tried multiple cases involving governmental entities and their employees involving claims that public entity had an unconstitutional policy of not properly training and supervising its investigators, excessive force used in a shooting in which the plaintiff was rendered a paraplegic, mandatory duties breached in the death of a child placed in foster care by a public agency, plaintiff wrongfully detained in violation of the Fourth, Eighth and Fourteenth Amendments when she refused treatment regime for multi-drug resistant tuberculosis, and excessive force used in restraint of subject who died of positional asphyxia, to name a few.
Probate
As a judicial officer adjudicated several probate matters including guardianship of a minor, validity of a will, breach of fiduciary duty by a trustee in the management and sale of family properties.
Medical Malpractice
Handled matters pertaining to medical negligence related to failure to disclose risks of surgery and breach of standard of care in carpal tunnel surgery, negligence/breach of standard of care in cervical spine surgery, negligence/breach of standard of care in hand surgery, negligent care in the transport of a patient to the hospital, physical and emotional injuries as a result of plastic surgery, negligence in dental treatment, among others.
Real Property
As a judicial officer handled and adjudicated numerous cases involving breach of purchase and sales agreements, fraudulent concealment and failure to disclose, eminent domain/real property valuation cases in which governmental agencies sought to acquire private property for transit projects, boundary disputes involving quiet title, adverse possession, easements (prescriptive, implied, equitable and easements of necessity), restrictive covenants, fence lines and conflicting survey results, requests to partition property, valuation, tenancy, ownership and evictions.
Elder Abuse
She handled elder abuse cases involving care facilities, emotional abuse, and financial fraud.
PI Auto
As a judicial officer, handled and adjudicated numerous cases involving serious injury or death due to automobile accidents; premises liability; assault and battery; and slip and falls, including serious automobile accident resulting in loss of a leg, multi-vehicle accident involving serious injuries to multiple parties, rear-end accidents with alleged neck and back injuries, trip and falls, and more.
Product Liability
Handled many product liability matters involving vehicles (faulty seatbelt), medical equipment (unsafe wheelchair), design defects, and fraudulent transfer.
I have tried cases before Judge McGuire and litigated cases with her before she took the bench. Judge McGuire has the ideal demeanor for a mediator. She is calm and composed and respectful of all parties' positions. She also has the experience, both as a trial judge and trial attorney, to evaluate cases and to assist the parties in reaching a fair and reasonable resolution. She has my recommendation.
- American College of Trial Lawyers Fellow and ABOTA Board Member
Judge McGuire was a very accomplished trial lawyer who was respected by both sides when she practiced law. When she went on the bench she kept that same reputation as fair and considered. She was President of her chapter of ABOTA and served as a National Representative for ABOTA for many years so her reputation is known to many lawyers. She is a great addition to the Judicate roster and will be a wonderful mediator and arbitrator because of her background and experience.
- Past President of Orange County's Chapter of ABOTA
Print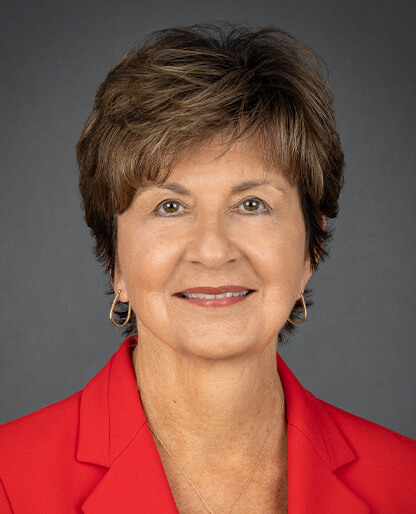 Based in Orange County | Available in All of California